Children's snowboard binding K2 YOU+H black is intended for young snowboarders and their first descents on a board. This model belongs to the K2 brand family, a brand that makes great boards, shoes and bindings. Read below for more detailed specifications.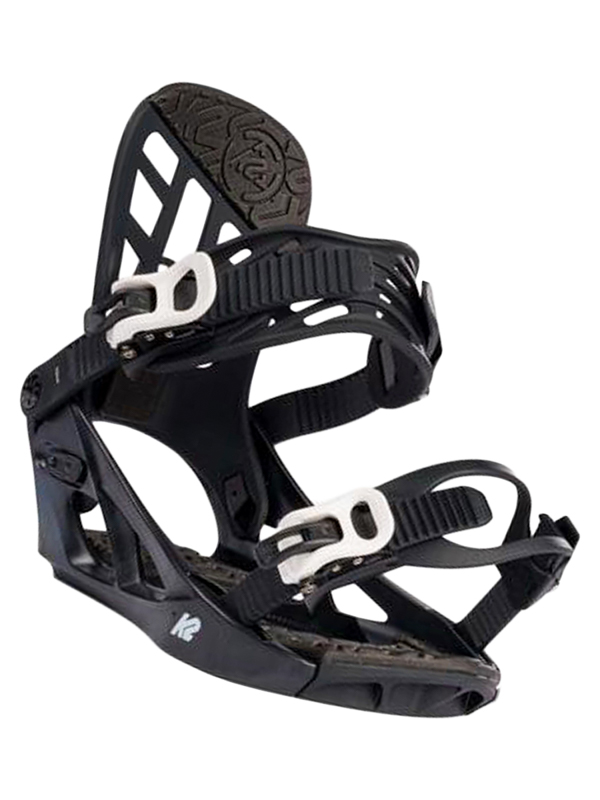 Response: 3/10
Construction: Profusion ™ Chassis - Strong yet lightweight binding construction with the option of precise adjustment to the shoe.
Footbed: 3° Canted EVA Footbed - Helps the rider to have a natural position.
Highback: Groms Tweakback Highback - A flexible heel that can forgive mistakes in the beginning and help in further improvements.

Ankle straps: Bender™ Ankle Strap - The most flexible instep strap from the manufacturer K2. The instep strap is thus very flexible, but retains its necessary stiffness.
Toe Straps: Perfect Fit™ - Fits every toe shape.
Ratchet: Mega PC Lever Ratchets - Polycarbonate ratchets with a quality spring for safe and easy operation.

Mounting: 4" Multi-Compatible Mount Disc - A disc for mounting bindings on a snowboard. Thanks to the small diameter, it is possible to use the greater potential of the snowboard itself. The disc can be mounted on standard inserts and on The Channel system, which is used by the BURTON brand.
100% Tool-Less Adjustments - No tools are required to install bindings
Size chart:
| | | | | | |
| --- | --- | --- | --- | --- | --- |
| Size | XS | WITH | M | L | XL |
| US men |   | (2-5) | (5-9) | (8-12) | (11-15) |
| US women |   | (3-6) | (6-10) | (9+) |   |
| US children | (11-1) | (2-5) | (5 - 9) |   |   |
| EU men |   | (33-36) | (36 - 40.5) | (40.5 - 44.5) | (44.5 - 50) |
| EU women |   | (33-36) | (36 - 41.5) |   |   |
| EU children | (29 - 33.5) | (34 - 38) | (36.5 - 42) |   |   |