Snowboard bindings Nitro RAMBLER ULTRA BLACK is another model of high-quality medium stiffness bindings from the Nitro brand. The Nitro brand makes great boards, bindings and shoes. For more information, read the specifications below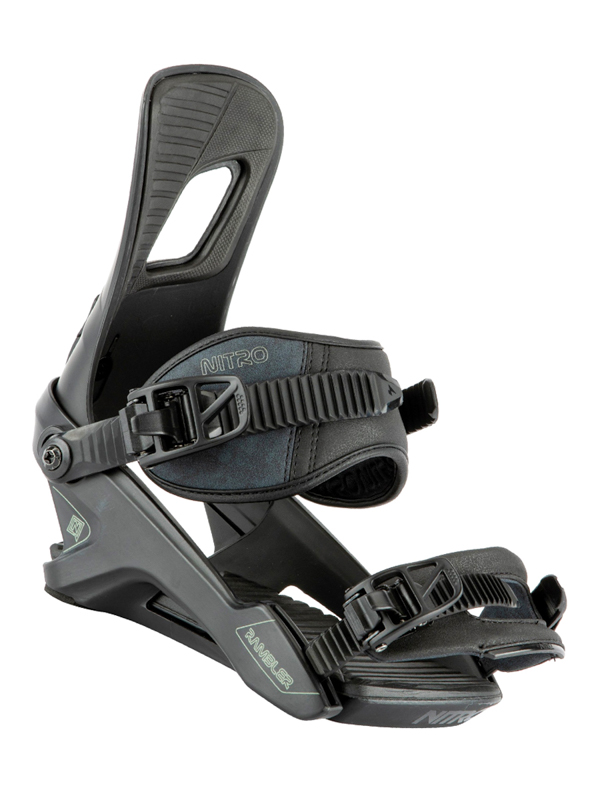 Response: 6/10
Technical Specifications:
BOARD SAVER TECHNOLOGY
Rounded corners of the baseplate where they meet the board.
ERGO HIGHBACK
Asymmetric backrest in an ergonomic shape.
PERFECT FIT ANKLE STRAP
The most durable and well-tested strap with narrower padding.
3D skeleton takes care of response and performance. Comfort is guaranteed by 25° thickened foam.
BEST CONVERTIBLE TOE STRAP
Safe and comfortable fastening of all types of shoes.
The front strap can be fastened over the toe and over the instep.
3° CANTED FOOTBED
A pad between the binding and the boot, made of ultra-light EVA foam, which allows for a more natural basic position on the snowboard, while helping to control the snowboard and dampen vibrations.
FORGED ALUMINUM SPEEDWHEEL RATCHETS
Durable and light aluminum ratchets for perfect functionality
EASY ENTRY BUCKLES AND RATCHETS
Thanks to its "S" shape, the buckles will not get tangled under your feet when you climb into the bindings.
Wide ratchets guarantee easy drainage and fast clamping.
CABLE REINFORCED CONNECTORS
The binding buckles are reinforced with steel wire and thus add durability and safety.
NITRO MINI DISC
A small and at the same time very light disk, which has the task of better distributing the center of gravity.
2x4 Mini Disc lets the natural flex of the board stand out.